Printed personalised tea towels for schools, fundraising, retail & promotional markets
Everyone needs a tea towel! Where would you be in your kitchen without one? As such they truly are 'a best seller'. Our digitally printed and screen printed tea towels are a blank page on which to promote, inform, fundraise or simply look great.
Personalised tea towels have always been our most popular product. We are here to offer the very finest quality. We are committed to a natural, eco friendly, printed tea towel. With a wide range of options for you to choose from we aim to create a personalised tea towel tailored to your own specifications and to ensure your exact requirements.
Please select below either School Tea Towels (a fantastic fundraiser), Promotional Tea Towels or Retail Tea Towels for more information. We also have a dedicated digitally printed tea towel page, for you to view our state of the art digital textile printing equipment.
Our standard tea towel measures 78cm x 48cm. With our in-house sewing facilities, we can customise the size to your requirements. We are also able to add wash care labels, hanging loops etc. without delaying your order. Bespoke point of sale packaging can be provided if required.
The state of the art digital printers in our UK factory enable full colour designs to be printed with fast turnaround times and no minimum orders.
Stuart Morris' experienced craft print technicians can produce screen printed tea towels with fantastic print definition and vibrancy. Our colour mixing department will match to any colour you wish. Our innovative art studio will strive to produce a personalised tea towel design that will delight both you and your customers.
Digitally Printed Personalised Tea Towels
Here at Stuart Morris, we are experts in digital tea towel printing. In the last few years we have invested in the latest digital textile printing technology, to ensure our digitally printed tea towels are the best in the industry in terms of clarity, colour vibrancy and wash fastness.
We take great pride in the superior quality of our digitally printed cotton tea towel fabrics.
Our digital tea towel fabric has been specially woven to our very specific quality requirements on our own designated looms. We have developed and perfected these digital tea towel printing fabrics over many years to provide our customers with softness of handle, sharp print definition, brilliance of digital print colour, superior absorbency and wash-ability.
Our selection of cloth has had a special coating which ensures they are perfect for digitally printed tea towels, and ensure vibrant colours and wash fastness.
We can truly create a product bespoke to you with all of the following options available for our digitally printed tea towels:
Placement printing
Full coverage bleed off printing
Wash care labels
Adding of your own bespoke labels
Hanging loops
Individual folding
Poly bagged
Belly Banded or Header Carded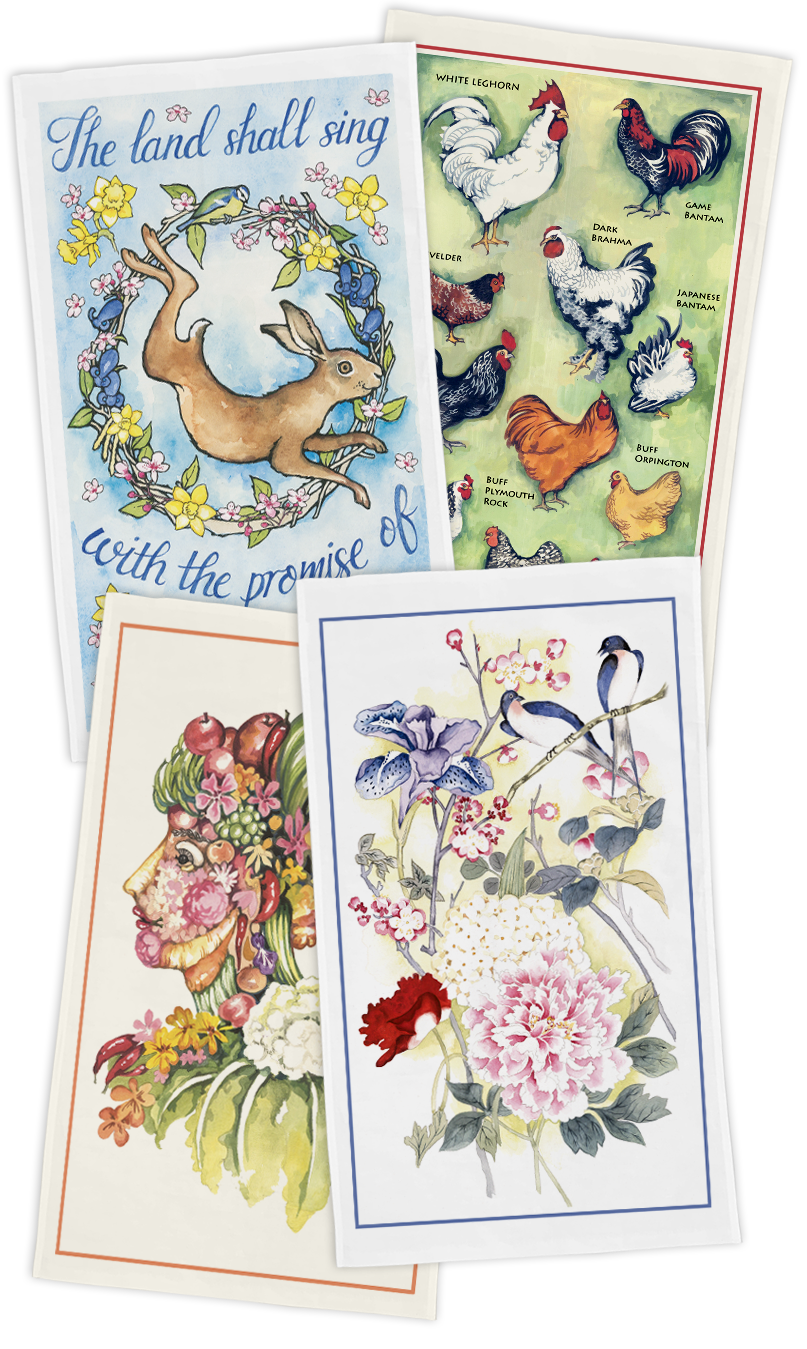 Digitally printed tea towels are excellent for personalised tea towel printing - both very short and very long print runs.
By digitally printing we can avoid the need for the lengthy and expensive set up costs that are needed in more traditional print methods such as screen printing tea towels.
Working from our UK factory, our crafts people are experts in reproducing your designs onto tea towels to the highest degree.
Five digitally printed tea towel fabrics to choose from!
100% Premium White Cotton
Our 100% premium cotton digitally printed tea towel are prepared and finished to the highest standard. Made from 169gsm, best grade cotton and super absorbent, they are ideal for everyday use as well as a great souvenir.
Available as:
• White Premium Cotton (100% Cotton)
• Natural Premium Cotton (100% Cotton)
Half Panama Heavyweight Cotton
Our luxury 1/2 panama digitally printed tea towels offer a heavier weight finish. Finished to the same high standard as our 100% premium cotton tea towels, it is 233gsm to give a thicker more textured appearance.
Available as:
• White 1/2 Panama (100% Cotton)
• Natural 1/2 Panama (100% Cotton)
Linen Union
The custom printed linen tea towel is a 50% linen 50% cotton mix, bleached white. It is 185gsm and offers a more open weave and is popular within the heritage market.
Available as:
• White Linen Union (50% Cotton, 50% Linen Union)
To find out more about our digitally printed products:
Just to let you know if I didn't already tell you - I am thrilled with my pinnies - thank you! I wear them when I am in the workshop and at the markets - makes me feel very professional. The pockets are a godsend.
Barbra